Erie S-3 / S-4 Berkshires
Note: 4th Driver In Sample Brochure is Reversed
S-3 4th Driver: Box Poc
S-4 4th Driver: Spoked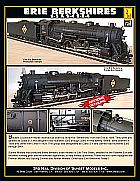 BUY NOW!!!
3R S3 Sold Out!!!
S3 PILOT SAMPLE



S4 LOCO 3D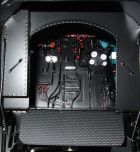 Erie S-3 /S-4 2-8-4 Berkshire
INSTOCK
The Baldwin Locomotive Works received an order for thirty-five "Berkshires" from the Erie in 1928. They were designated as Class S-3 and assigned road numbers 3350 through 3384. A final twenty "Berks" were ordered in 1928 and came from Lima in 1929. This group was designated as Class S-4 and carried road numbers 3385 through 3404. (www.steamlocomotive.com). The primary difference in these two classes are the road number and some tender details.

Both will be detailed as they were in the late 40s and early 50s with modified running gear and modernized appliances. Show your interest by ordering. The more orders the lower the final price will be. Notice the prototypical siderod standoffs from the drivers. These models have been fully reserved by our 2 Railers. Built from Bluprints and proven with our I3D (Integrated 3D Design) method. This will be the most detailed and accurate Erie Berks available.
All Brass Construction
Fully Detailed Backhead
ERR CRUISE 3 Rail
TMCC/ Improved OEM Railsounds
Compatible with Legacy, DCS, TMCC, Conventional Control
Coil Couplers
Available in 2R or 3R
054 3 Rail Track, 56" Radius 2 Rail Track Compatible
$1499.95 MSRP
Instock Now!!!

ERIE CABOOSE INTERIOR

Erie S-3
Newest Sample Pictures


Erie S-4


Erie Steel Caboose
PRODUCTION SAMPLE


IN STOCK NOW
ONLY 5 LEFT
$299.95 MSRP


SOLD OUT!!!
Timken 4 Aces #1111
2R TIMKEN
SOLD OUT
2R NP A-1 Black Boiler Oil Tender
2R NP A-1 Gray Boiler Oil Tender
3R TIMKEN 4 ACES ( ONLY 2 LEFT)
3R NP A-1 Black Boiler Coal Tender
3R NP A-1 Black Boiler Oil Tender
3R NP A-1 Gray Boiler Oil Tender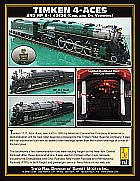 Timken 4 Aces
- 4-8-4 #1111(COAL)
Northern Pacific #2626 A-1 3 Versions
- Coal PreWar - NP Division
- Black Boiler OIL PostWar - Tacoma Division
- Grey Boiler OIL PostWar - Tacoma Division
LAYOUT PHOTOS/VIDEO BY IMAGES OF THE PAST

Lighted Backhead Dials
Cab Curtain Details

Operating Turret
And Cab Vents

Unique Detailing
For Each Version
Timken 1111, also called the Timken Four Aces, was a 4-8-4 steam locomotive built in 1930 by American Locomotive Company (Alco) to serve as a demonstration unit for new roller bearings produced by the Timken Roller Bearing Company. It was the first locomotive built with all sealed roller bearings rather than the friction bearings or a mix of the two types.
The locomotive's first demonstration runs were hauling freight on the New York Central Railroad. After those demonstrations, it was used on thirteen other major railroads, including the Chesapeake and Ohio Railroad, New Haven Railroad and Pennsylvania Railroad (PRR), in both freight and passenger service. The PRR used the locomotive on a passenger train where it hauled twelve passenger cars through the Allegheny Mountains so well that the train did not require the use of helpers and arrived at its destination three minutes early. (Wikipedia)
By August 1931, the locomotive had been used for over 90,000 miles (145,000 km) when it was delivered to the Northern Pacific Railroad, the fifteenth railroad to demonstrate the locomotive. With a dynamometer car in tow, the Northern Pacific was able to drive the locomotive as fast as a sustained 88 mph (142 km/h) while pulling the North Coast Limited passenger train past Willow Creek, Montana. However, while in service for the Northern Pacific 1111 suffered severe crown sheet damage. Timken demanded that Northern Pacific repair it, while Northern Pacific refused to repair a locomotive they did not own. The resulting agreement led to the sale of 1111 to Northern Pacific.
Sunset Models is proud to announce a special run of the 4-Aces in Timken Green #1111, NP A-1 Grey #2626 and NP A-1 Black Livery
All Brass Construction
Fully Detailed Backhead
ERR CRUISE in 3 Rail
TMCC/ New OEM Railsounds
Compatible with Legacy, DCS, TMCC, Conventional Control in 3 Rail
Coil Couplers in 3 Rail
Available in 2R or 3R
054 3 Rail Track, 48" Radius 2 Rail Track Compatible
$1499.95 While Suppliers Last

Timken 4 Aces #1111 Production Sample



NP A-1 #2626
Grey Boiler
Oil Tender
NOTE-DOMES
WILL BE PAINTED GREY


NP A-1 #2626
Black Boiler
Oil or Coal
BUDD RDC CARS

BUDD RDC-1 & RDC-2 IN ABS
SEE WHAT IS LEFT!!!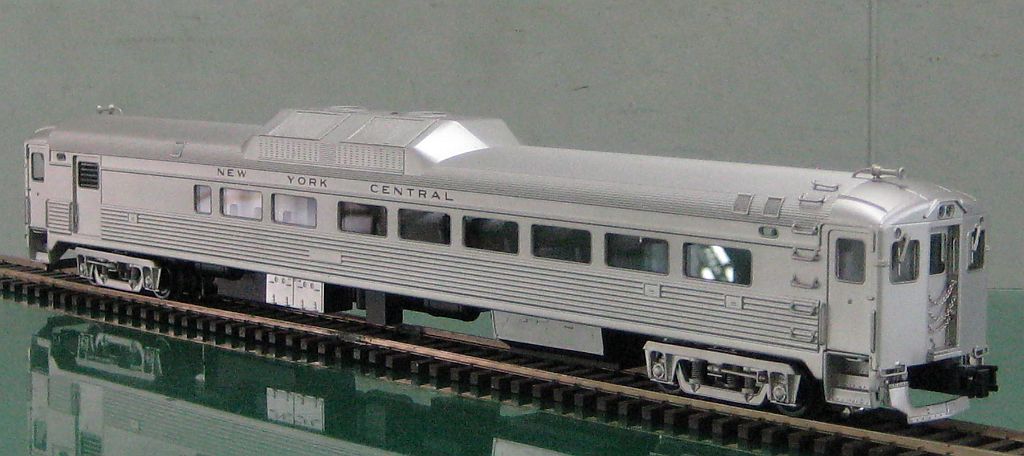 The Rail Diesel Car (RDC) was built by the Budd Company during the 1950's. RDCs were propelled by a diesel engine under the car body. The RDCs were much more economical than Diesels for these interurban route and can be still be found in operation on tourist lines.

3rd Rail is proud to announce the RDC-1 and RDC-2 (Combine) in ABS. This model boasts two in-truck mounted Canon motors with all wheels driven and sprung for a very smooth and prototypical operation.These RDC cars come complete with interior detailing, overhead LED lighting and passenger figures. 2R Models come with Directional Lighting. 3R has ERR Cruise, TMCC, and New Diesel Railsounds. Models Made to the Reservations. So to get one, please reserve Today!!! May Roads Available See Web Site for Details.
Available in the following Liveries
B&O - B&M - C&O - C&NW - CN - CP - LIRR - LV - -NH - NP (RDC-2) - NJC (RDC-1)
NYC - PRSL (RDC-1) - READING - SF (RDC-1) - SP (RDC-1) - WP (RDC-2)
ABS Body

In Truck Canon Motor Drive

3R ERR Cruise, TMCC, New Sounds

2R - QSI "Titan" DC/DCC with Sound

Interior Detail with Figures

LED Overhead Lighting

Smooth Operating

Powered $699.95 $599.95

And Dummy Units $549.95 $449.95

RDC-1 / RDC-2
2R SOLD OUT
3R GM TRAIN OF TOMORROW
GM E7 + 4 DOMED CARS
ONLY 1 LEFT
CALL - 925-820-7701 X 5 #
2R & 3R UP YELLOW
CITY OF SEATTLE
CARS SOLD OUT
UP E7 DIESELS AVAILABLE
CLICK HERE
GM's "TRAIN OF TOMORROW"
ONLY ONE 4 CAR SET LEFT IN 3 RAIL
NO GM E7 DIESEL
"Star Dust", "Sky View", "Moon Glow", "Dream Cloud"
UP Cars are sold out, but we do have UP E7 A Units

General Motors toured its all-dome concept train, the Train of Tomorrow, across the country beginning in 1947. It was operated on many Railroads during it's cross country tour. After the tour ended, Union Pacific purchased the four cars and assigned the Astra-Dome train, powered by an Electro-Motive 2,000-horsepower diesel locomotive, to pool service on the "City of Seattle", Seattle-Portland run. Passengers found a new way to enjoy the scenery when they rode in the Sky View diner, Star Dust chair car, Dream Cloud sleeper and Moon Glow lounge-observation car. The cars operated until the early 1960s.
E7 Diesel ABS Body and Horizontal Canon Motor
All Metal U-Joints
Full Cab Interior W/ Figures
ERR CRUISE, Smoke and Lighting in 3 Rail
QSI "Titan" DC/DCC with Digital Sound in 2 Rail
Cars are Aluminum Extruded Construction
Each car is prototypically detailed and lettered
Cars have Figures and Lights, even in the dome.
Full Interior Details Prototypical for Each Car
072 3 Rail Track, 56" Radius 2 Rail Track Compatible
Estimated MSRP E7 + 4 Custom Dome Cars $1549.95
Order your "Train of Tomorrow" Today

| | |
| --- | --- |
| GM's Original Brochure | The Cars |
| | |

GM Train of Tomorrow

Union Pacific
"City of Seattle"



B&O P-7E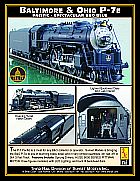 2R B&O P-7E (#5314)
3R B&O P-7E (#5314)
ONLY 5 LEFT
3R B&O P-7E (#5315)
2R B&O P-7E (#5315)
SOLD OUT
Now 2 Versions Available
#5314 - Unstreamlined (Box Poc Drivers, Boiler Tube Pilot
#5315 - (3R ONLY) Running board Skirted, Spoked Drivers, Cast Pilot
(Secret Run of only 5-2R, 15-3R) Very Rare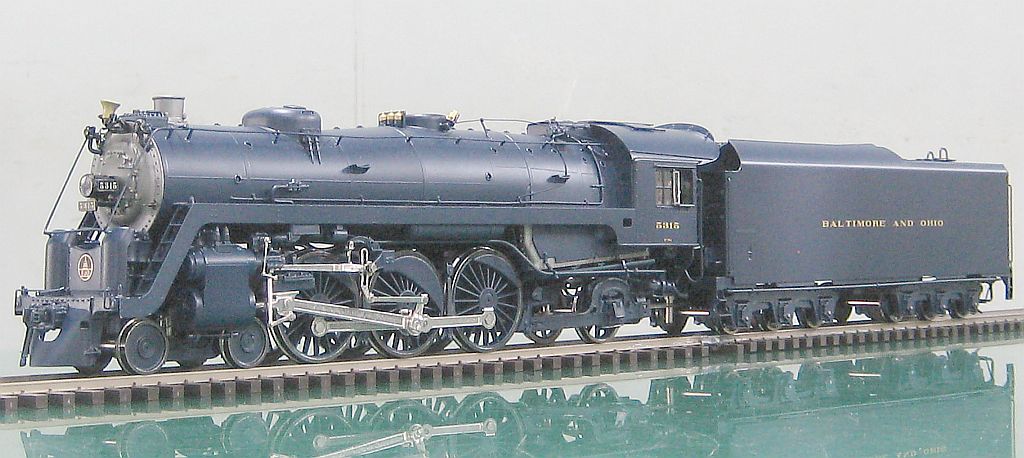 B&O P-7e - #5315 (2R SOLD)
B&O P-7e - #5314 Available

IN STOCK NOW!!!
"The Most Beautiful Model Sunset has made so far." - Chicago Show B&O Fan
Lighted Backhead Dials (WOW!!!)
B&O Fans Rejoice.... Finally a correct P-7e #5314, with Box Poc Drivers, Blue Boiler and Tender, just like the B&O Had.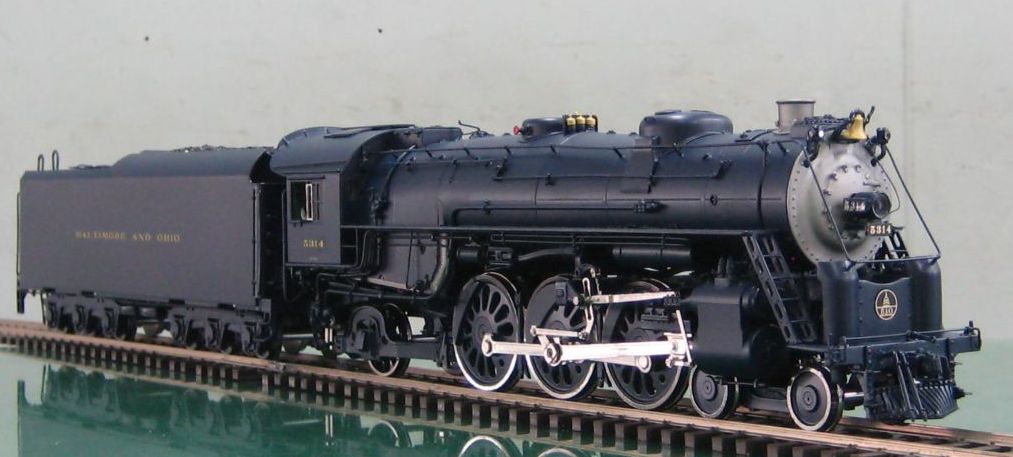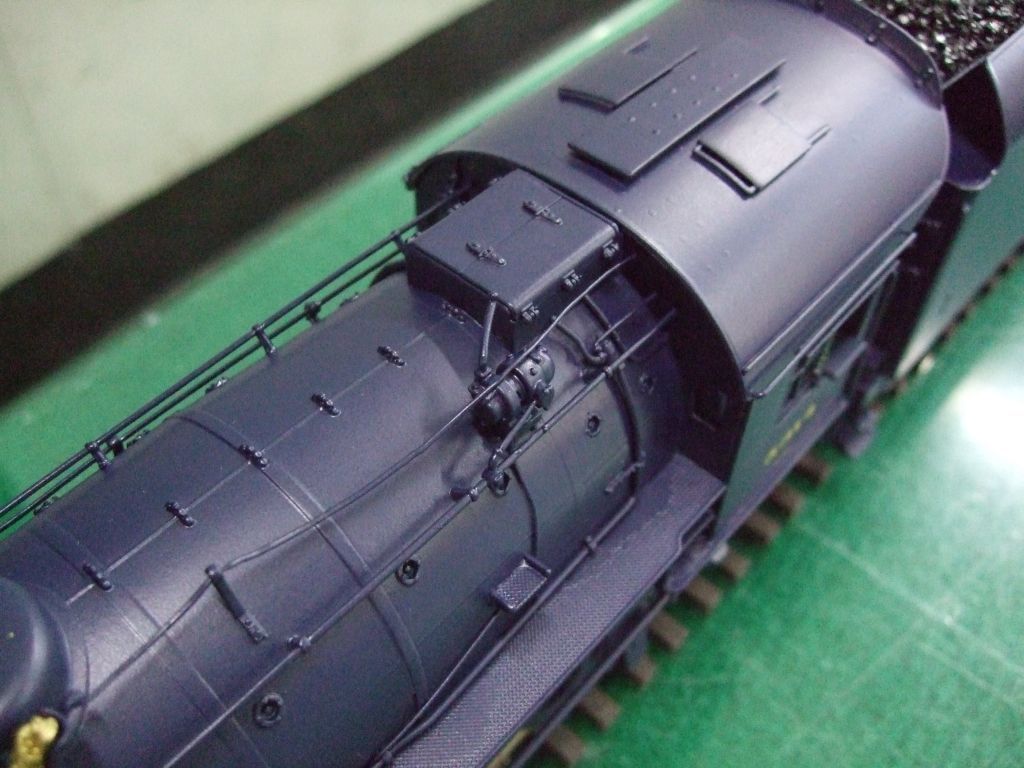 All Brass Construction
Fully Detailed Backhead
ERR CRUISE in 3 Rail
TMCC/ Railsounds 4.0
Compatible with Legacy, DCS, TMCC, Conventional Control in 3 Rail
Coil Couplers in 3 Rail
Available in 2R or 3R
054 3 Rail Track, 48" Radius 2 Rail Track Compatible
$1399.95 MSRP
1 Engine number #5314 and #5315

B&O P-7e
Pacific

BLUE ENGINE
AND TENDER